How Do Shoe Sizes Differ Between Countries?
Tuesday, 13 July 2021 00:00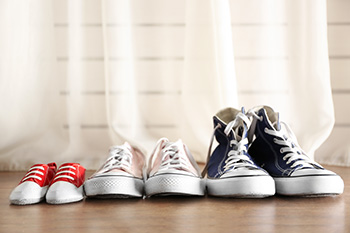 If you have ever tried to shop for shoes online, you may have noticed that, in addition to different brands having different measurements for their sizes, shoe sizing standards also vary by country. But whether you're a size 7, 38, 5, or 24 (which are all, more or less, the same size), it may be worth knowing more about these numbers. In the United States, shoe sizes generally increase in standard increments of a third of an inch. In the UK, an adult's shoe size can be estimated by measuring the length of the foot, multiplying it by three, and then subtracting 25. In Europe, shoe sizes increase by increments of two-thirds of a centimeter. If all these numbers are making your head spin - you're not alone. Finding the right size shoe can be difficult work. In a brick and mortar store, a sales associate can often help you find the right shoe size by measuring your feet, and you should always try on shoes and make sure that they fit comfortably before you commit to wearing them. A podiatrist can further assist you by suggesting specific features of shoes, such as extra padding or a wider toe box, that would best meet your foot health needs. For more information about finding the right shoes for you, consult with a podiatrist.
Getting the right shoe size is an important part of proper foot health. Seek the assistance of Dr. Eugenio Rivera from Calo Foot & Ankle Specialists. Our doctor will provide the care you need to keep you pain-free and on your feet.
Getting the Right Shoe Size
There are many people who wear shoes that are the incorrect size, negatively affecting their feet and posture. Selecting the right shoes is not a difficult process, so long as you keep several things in mind when it comes to choosing the right pair.
When visiting the shoe store, use the tools available to measure your foot.
Be sure there is 'wiggle room'. There should be about an inch between your toes and the tip of your shoes.
Do not always assume you are the same size, as manufacturers run differently.
Purchase shoes later in the day, as your feet swell as the day progresses.
If a shoe is not comfortable, it is not suitable. Most shoes can't be 'broken in', and comfort should be the ultimate goal when it comes to choosing the right pair of shoes
As our feet hold our body weight and keep us moving, it is important to treat them right. Picking the right pair of shoes can provide your feet comfort and mobility without pain.
If you have any questions, please feel free to contact our office located in Bellaire, TX . We offer the newest diagnostic and treatment technologies for all your foot care needs.
Read more about Getting the Right Shoe Size: To Keep Your Feet Happy