A Deeper Look at Adult Heel Fissures
Tuesday, 31 October 2023 00:00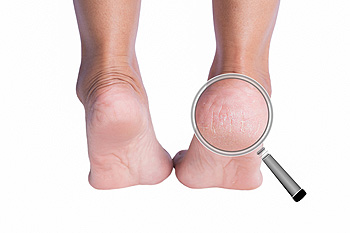 Heel fissures, also known as cracked heels, are a prevalent foot issue among adults, and they can be both painful and unsightly. These fissures appear as dry, flaky skin, and are often accompanied by deep, painful cracks on the heels. Several factors contribute to the development of heel fissures. One of the primary culprits is dry skin, typically caused by environmental conditions, such as low humidity or excessive heat, which can lead to the loss of natural skin moisture. Walking barefoot, particularly on hard surfaces, can also increase the risk of developing heel fissures. Additionally, underlying health conditions, like diabetes or thyroid disorders, can affect skin health, making individuals more susceptible to these conditions. If heel fissures become severe, it is suggested that you consult a podiatrist to rule out underlying health issues, in addition to receiving appropriate treatment options. 
If the skin on your feet starts to crack, you may want to see a podiatrist to find treatment. If you have any concerns, contact Dr. Eugenio Rivera from Calo Foot & Ankle Specialists. Our doctor can provide the care you need to keep you pain-free and on your feet.
Cracked Heels
It is important to moisturize your cracked heels in order to prevent pain, bleeding, and infection. The reason cracked heels form is because the skin on the foot is too dry to support the immense pressure placed on them. When the foot expands, the dry skin on the foot begins to split.
Ways to Help Heal Them
Invest in a good foot cream
Try Using Petroleum Jelly
Ease up on Soaps
Drink Plenty of Water
Ways to Prevent Cracked Heels
Moisturize After Showering
Skip a Shower
Keep Shower Water Lukewarm
Don't Scrub Your Feet
If you are unsure how to proceed in treating cracked heels, seek guidance from a podiatrist. Your doctor will help you with any questions or information you may need. 
If you have any questions, please feel free to contact our office located in Bellaire, TX . We offer the newest diagnostic and treatment technologies for all your foot care needs.
Read more about Solutions for Cracked Heels